Welcome to Wash Common Dental Practice
In order to help you make the right choice when it comes to selecting a dentist, we would like to take this opportunity to tell you a little bit about us and how we work.
We're a friendly and professional team of highly qualified dentists who are committed to providing the best possible care for your teeth. As well as having all the necessary qualifications, you can be rest assured that all of our dentists are registered with the General Dental Council.
Like many other industries, the dental profession is always changing thanks to modern advancements in technology. We pride ourselves on being a forward-thinking practice which embraces these changes and because of this, our team regularly attends seminars and training events. This enables them to incorporate the new technologies they have learnt about into their treatments, thus providing you with the best dental care that we possibly can. 
We have practices in Newbury and Southampton and whether you're a new or regular patient, we warmly welcome everyone who comes through our door. We truly understand that not everybody feels comfortable in the dentist's chair which is why our friendly team and comfortable surroundings help to put even the most anxious patients at ease.
Whether you're an existing patient or are away from home and need to see a dentist, we do everything we can to accommodate emergencies and can normally see you on the same day.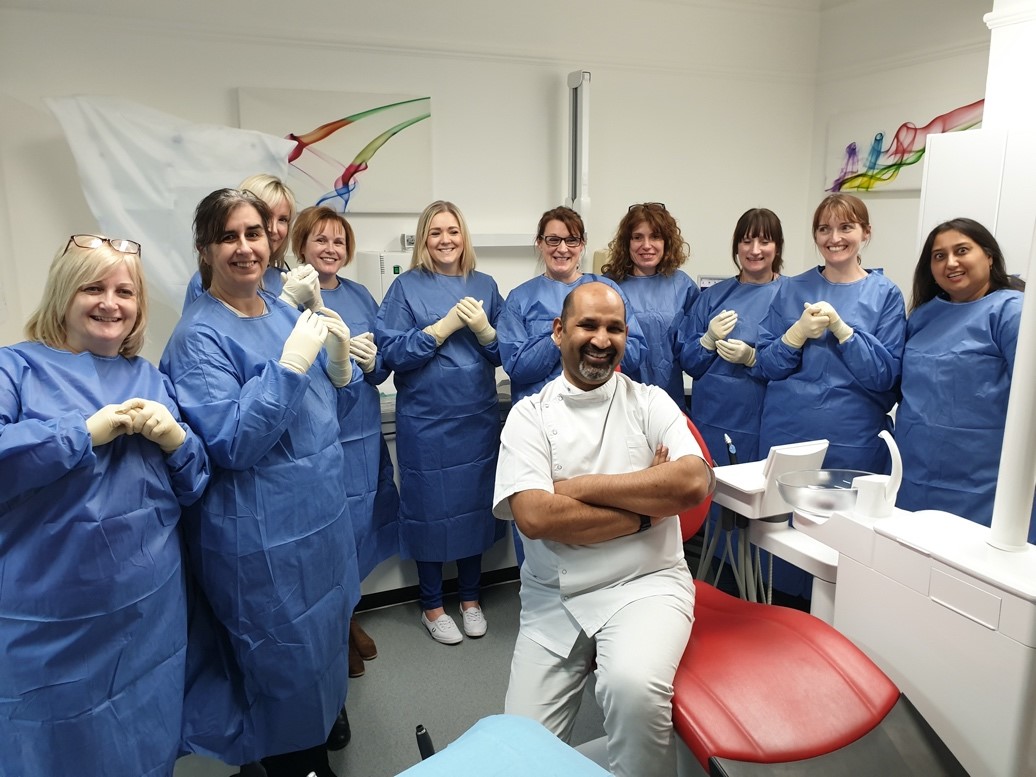 Please call 01635-45876 and a friendly member of our team will be more than happy to help.

If you need to see an emergency dentist or need help out-of-hours,  click here or call 01635-45876 and follow the advice on the answer phone.
"In the years I have been a patient I have seen lots of changes in technology but very few changes in staff, which indicates a settled, happy and contented personnel. I would never go anywhere else."
"I have been a patient at Wash Common Dental Practice for many, many years now and have always been treated very well by everyone. The premises are always clean and tidy and you always get a warm welcome from the reception staff.

I have had different dentists and hygienists over the years but all have given me very good care especially as I seem to have inherited less than perfect teeth. I am currently having a lot or work done with Seepaul Singh (Implants, new Crowns and a new bridge) and everything had been done to the highest order and to fit in around me. I can certainly recommend this very nice practice "
"I have been coming to this practice for most of my adult life. Very happy with the service and staff. If asked, I always recommend this practice to friends and family. "
"I have been coming here for a long time and have always been dealt with professionally by friendly and helpful staff."
"I have been a client of Wash Common Dental Practice for many years. Each time that I have needed treatment, either with the hygienists or for a filling, root treatment or implant, I have found everyone involved to be of the highest professional standard. Everything was explained carefully beforehand, and any questions answered comprehensively. I would not hesitate to recommend Dr Singh and his team."
"I have been a patient at Wash Common Dental Practice for over 20 years and am not going to change. My health isnt great and it affects my teeth to the point that I need implants although this was compounded by a previous dentist who crowned loads of my teeth unnecessarily.
Dr Singh has been incredible, working out the best system that would be most effective for the future and the most cost effective.

I used to be dental phobic but am now completely relaxed, he ensures that after the initial injection there is no pain, if I have anything major done he will call and check on me. "