TMD, TMJ, Bruxism...
USEFUL INFO
Lockdown has been a very challenging time. During these difficult months, many of our patients have presented with broken teeth, restorations and dentures. They often complain about headaches, jaw pain, waking up with clenched teeth and suffer from broken sleep. If you are suffering, you may be exploring TMJ or TMD. Though these two acronyms are often used synonymously, they are quite different. We explain these below as well as treatment options.
Temporomandibular joint (TMJ)
The temporomandibular joint (TMJ) is the joint that connects the skull with the jaw bone and is located in front of your ear. These two bones are connected by ligaments and muscles, and a joint capsule surrounds the joint.
There is a disc which sits in between the two bones and should move forwards and backwards with the jaw bone as you open and close your mouth. Your TMJs are essential for chewing and talking and are the most used joints in the body.
Temporomandibular dysfunction (TMD)
Temporomandibular dysfunction (TMD) is a collective term for conditions that affect the TMJ or jaw joint and the muscles around the joint.
It is a common condition affecting 8% to 15% (1) of the adult population.
TMD often gets better on its own, but in some cases the pain may last longer and require treatment.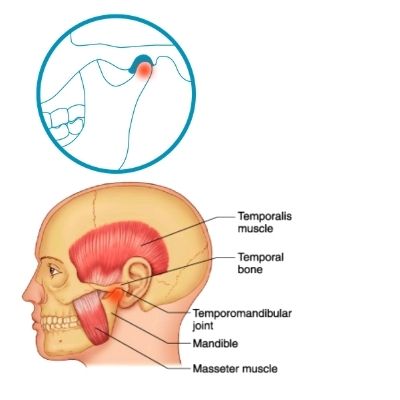 We genuinely care about patient wellbeing. Visit this social page where we focus on areas other than typical dentistry which we believe impacts overall health.
Sleep is an essential part of feeling well and happy, but almost everyone experiences problems sleeping at some time in their life. Sleep disruption is common, especially during times of heightened emotions such as stress. To improve your sleep, try some of the following suggestions which are known as good sleep hygiene:
Avoid things that give you energy before you go to bed such as caffeine or nicotine.
Don't go to bed too late or too tired.
Improve the quality of your sleep environment. Have a comfortable bed and pillow, in a quiet and darkened room, at a comfortable room temperature for you.
Consider relaxation and meditation prior to going to sleep.
You may be offered a splint. This helps to protect the teeth for those that grind or clench excessively and makes it harder to clench and grind. However, research is inconclusive for the use of splints to decrease bruxism and TMD.
Stress can prolong jaw muscle pain and potentially make it worse. Treatments focusing on reducing stress may be useful and may also help to reduce your pain. TMD lasting over six months may cause changes in your emotional wellbeing.
The following treatments may be beneficial in improving your wellbeing and reducing stress. Understanding and acknowledging these issues is the first step to improving your chances of a good recovery. Therapies which might help include:
Relaxation therapies, including relaxation apps such as Calm© or Headspace©
Abdominal breathing techniques
Meditative yoga
Mindfulness techniques
Talking therapies such as Cognitive Behavioural Therapy (CBT).