Published in Newbury Weekly News,  28 July, 2020. Original link here.  Reported by Sarah Bosley.
A Wash Common dentist is volunteering his services to athletes from 72 countries at the Commonwealth Games.
Alfie Chan, 51, has been a dentist in the Newbury area for the past 20 years – and is now offering his "part-time hobby" skills to the world.
Dr Chan studied sports dentistry at UCL in London and has worked with England Rugby as well as local junior football teams.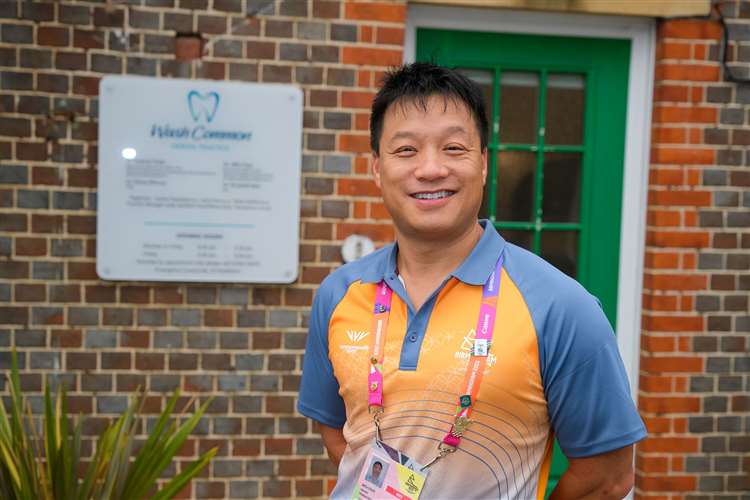 He is taking this sporting and medical expertise to the Commonwealth Games, which begin in Birmingham today (Thursday).
The Wash Common Dental Practice dentist said: "Athletes' bodies are brilliant but their teeth are terrible.
"Their packages cover everything under the sun medically but not dentistry.
"A lot of athletes around the world don't have much money so this is a good thing to do.
"It's an important service to provide for the athletes and their teams.
"But we're just there to make sure they have healthy teeth – not Love Island teeth."

As well as providing dental check-ups Dr Chan will be working during the Rugby 7s event and will provide any emergency trauma treatment necessary.
He added: "Some of these countries don't have proper dental set ups so we also give advice to maintain their teeth when they go home.
"A lot of dental and oral health education will be taking place too."
He said seeing the teeth of some young athletes was "a bit of a shock" due to the high calorie diets they all need to consume to sustain their training regimes.
All of the volunteer dentists at the Games will be collecting a wealth of data too, which Dr Chan said he hopes will help educate athletes.
"There is a lot of talk about the welfare of young athletes and that includes their dental health," he said.
The father-of-two, who lives in Newbury, will be based in a mobile dental van and working eight, eight hour shifts during the two weeks of competition.
"I am looking forward to it," he added. "It's my professional development hobby.
"I do it because I like it and I want to help the athletes.
"I find it very interesting."